Travel Log: The Amalfi Coast


Easy Peasy Lemon Squeezy
Current residence: Paradise. It's the way you feel when dwelling on the Amalfi coast, always facing the seemingly overflowing sea and the sun (and its -sets and -risings) with some lemon granita in your hand and a smile upon your freckled face. With its steep coast, the pastel colored houses, the palm trees and blooming cacti, the Costiera Amalfitana is just one grand masterpiece.

The scent of Jasmin is in the air and we're stepping on little Olive tree blossoms when we ascend the little town of Nerano with its white-tiled church spire. Our feet fly even though the steepness of the streets challenge them. We pass little gardens with bright yellow lemons hanging over the ground – ready to be picked. We smell the air and its warmth feeds our inner restlessness. We're fully and truly here. Again.



A place of recurrence

It wasn't my first time. But once you've been there, Amalfi haunts your mind, occupies your thoughts and visits you in your dreams. It is indeed one exceptional place.


And everybody has his or her own Amalfi tale to tell.

For me there was a huge gap between my first encounter and the time my grown-up self returned. Still, I remember as if it was yesterday. 19-year-old me was standing on my au pair family's boat, being in awe of the perfect view of the Amalfi coastline when arriving at the shore from the south of Italy. The sun was setting, the little shoebox-shaped houses were dipped in golden light and the air was warm and salty. I knew that I had to come back. And I did. In good company.
Is it presumptions to call a place like the Amalfi coast your second home?
As far as Marie and I are concerned – we were just lucky. 'Cause a very good friend of ours teaches Marine Biology in a small village called Marina del Cantone. And he's always up for a visit.



The village is down by the sea, the very last stop before the island of Capri. There is a rather big camping park with some little apartments enclosed in this pine tree-shaded environment, the small Unimare Center informs Austrian and German pupils about the ongoings in the natural reservoir (FAI – Fondo Ambiente Italiano) of Baia di Ieranto. Snorkeling or botanical hikes are part of this school by (and about) the sea. So we joined in!
The sea is high up, the cliffs seem dangerously steep, but we feel sheltered in the botanical bliss of Italian May sprouts. A new adventure awaits: The walk to Baia di Ieranto takes about one hour, but when you try to encounter and name each and every growing flower and tree, you can easily double that number. At least we now know how to define and name everything between a carob, a spurge and a gorse. And we are enchanted by their colors. But then we arrive at Baia di Ieranto, a spiaggia worthy of its name. Turquoise water and sandy beaches do the trick. Just get out your snorkeling gear, you all! Dive in! And enjoy the liquid grandeur covering two thirds of the planet.

BAIA IERANTO
The word derives from the Greek »Ieros« meaning »sacred« – and it fits just perfectly. Glittering waves, turquoise water and the isle of Capri in sight are worth the hike. The well-deserved reward after a long hike or paddle: entering Baia Ieranto. A real gem.
But there are always other ways. A little jump for the world, but a big one for Marie and me – we got into kayaks and paddled to secluded coves.


For us it was the most adventurous way to get around the Amalfi Coast.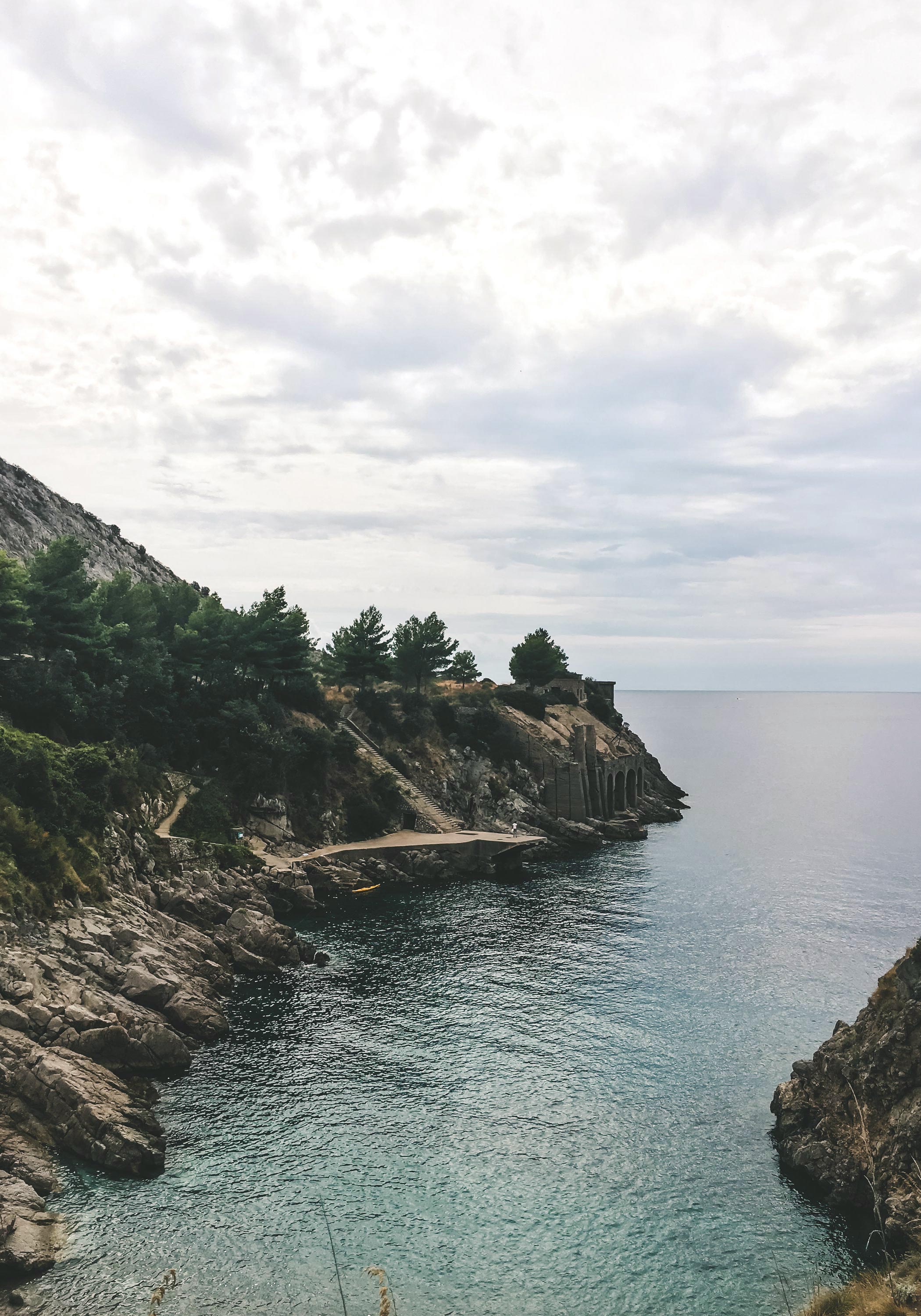 The reward after a long hike or paddle: entering Baia Ieranto.
We felt so close to the water and happy to spend some time just by ourselves and the splashing sound of the paddle diving into the marine-blue sea. (But please don't forget to cover your head and use sunscreen accordingly. We learned it the red-faced-headache-way.) Going some place by kayak means you have the whole beach to yourself: bring fresh oranges, the locally typical Taralli (especially good with Chilis) and enough water with you – this will ensure the perfect sporty, snorkelly beach day.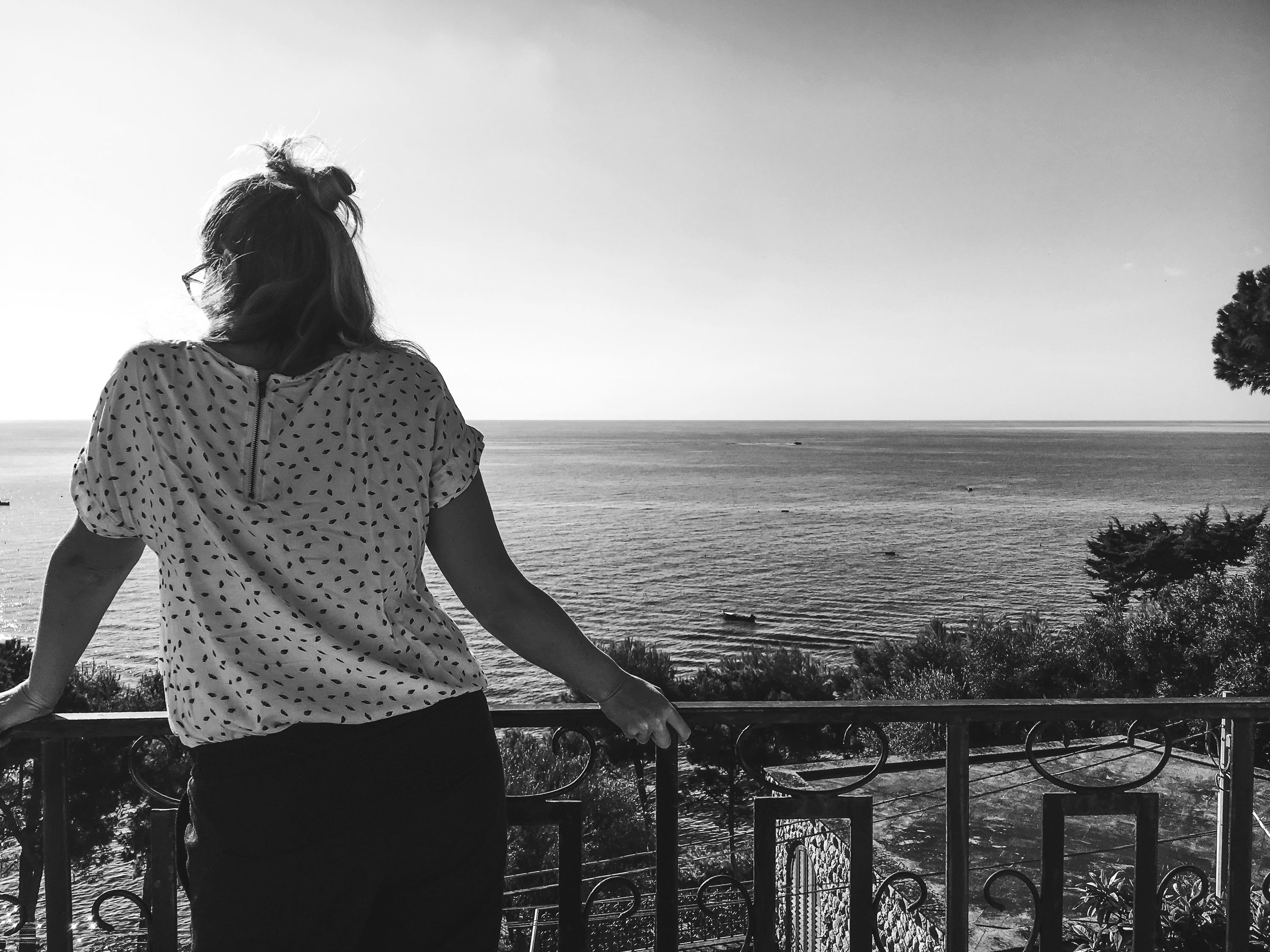 While eating our Italian version of
Shakshuka
(with fresh tomatoes, basil and the most delicious Mozzarella you could imagine) or trying our best mastering the art of
Risotto and Gnocchi alla Sorrentina
, we stopped counting the calories, and started collecting beautiful mouth-watering moments instead. Especially on the 200-m2-rooftop terrace that belonged to the Airbnb-apartment we rented while staying in
Marina del Cantone
the last time. But also in the little village of
Massa Lubrense
, where we ate
lemon risotto with tuna
(holy moly!) on top.
IL CANTUCCIO
Italian cuisine with a view. Pizza, pasta and other Italian treats leave you perfectly happy. But please don't forget to spare some precious stomach space for their Tiramisu.
When we weren't chilling, reading or listening to music, we started doing our own little yoga sessions with a gorgeous view of the sea. What an unbelievable experiene – the only thing we could see after our downward-facing-dog, during our tree or happy-baby poses was the endless sea. The air was chill.


And we were too.
How to navigate through the Amalfi Coast with all its ups and downs? Maybe you start by jumping on a
boat
and letting it flow. From Marina del Cantone there are boats to
Capri
or
Positano
and
Amalfi
. Don't be fooled by photos on Instagram – these places are no secret to the common traveler anymore. Their back-alleys, beaches and restaurants are stuffed with sun-seekers holding
Lonely Planet
guide books in their hands. Both
Amalfi
and
Positano
are impressive. Especially when you get rid of the busy anthill-feel to these places. Get yourself a scoop of ice-cream or – even better – a
lemon sorbetto
right on Positano pier and gaze at the spectacle.
Another way to explore the Peninsula is driving along one of the most beautiful coastal highways in the world – the Costiera Amalfitana. Google will tell you one thing, but you will soon find out that it takes you much longer to get from A to B than you might think. Just lean back, put on your favorite road trip tunes and enjoy the views opening up after every corner.
Like painted kites, those days and nights they went flyin' by
The world was new beneath a blue umbrella sky
Then softer than a piper man, one day it called to you
I lost you, I lost you to the summer wind
Summerwind — Frank Sinatra
L'alternativa POSITANO
When life gives you lemons, make Sorbetto! One of the prettiest ones is to be bought at the »best Pier Bar« of the coast – »L'alternativa« in Positano.
SENTIERO DEGLI DEI
Breathtaking views of the sea accompany you while hiking this (already quite beaten) path. You're definitely not safe from blood, sweat and crowds, but the most famous trail through the land of lemons is an absolute must.
The Sentiero degli Dei trails from Praiano to Positano. It takes a lot of steps to go up there. But not only your bum, but also your eyes will thank you for taking them: The sceneries are just breathtaking. Be sure to stop by the little village of Nocelle.

We made sure to see some of the small gems on the coast – Praiano, Maiori, Nerano and Cetera. (Yes, this is THE spot you know from Instagram) To sum it all up – for us Amalfi is highly addictive from the first sunset to the star-sprinkled sky. From over-crowded touristy spots to lonely beaches. From the first cappuccino to the last Averna Sour. So let's leave it behind with a heart-felt »arrivederci« – we'll see each other again!