Travel Log: FAQ Bregenzerwald


What the
FAQ?
While attending the FAQ Bregenzerwald festival in Austria's Vorarlberg, we gathered enough conversational topics for the rest of the year. This hybrid of forum, concerts and culinary pleasures in Austria's most scenic countryside
felt

like it had been made just for us

. After talking about it and planning on going there for years, we had finally made it.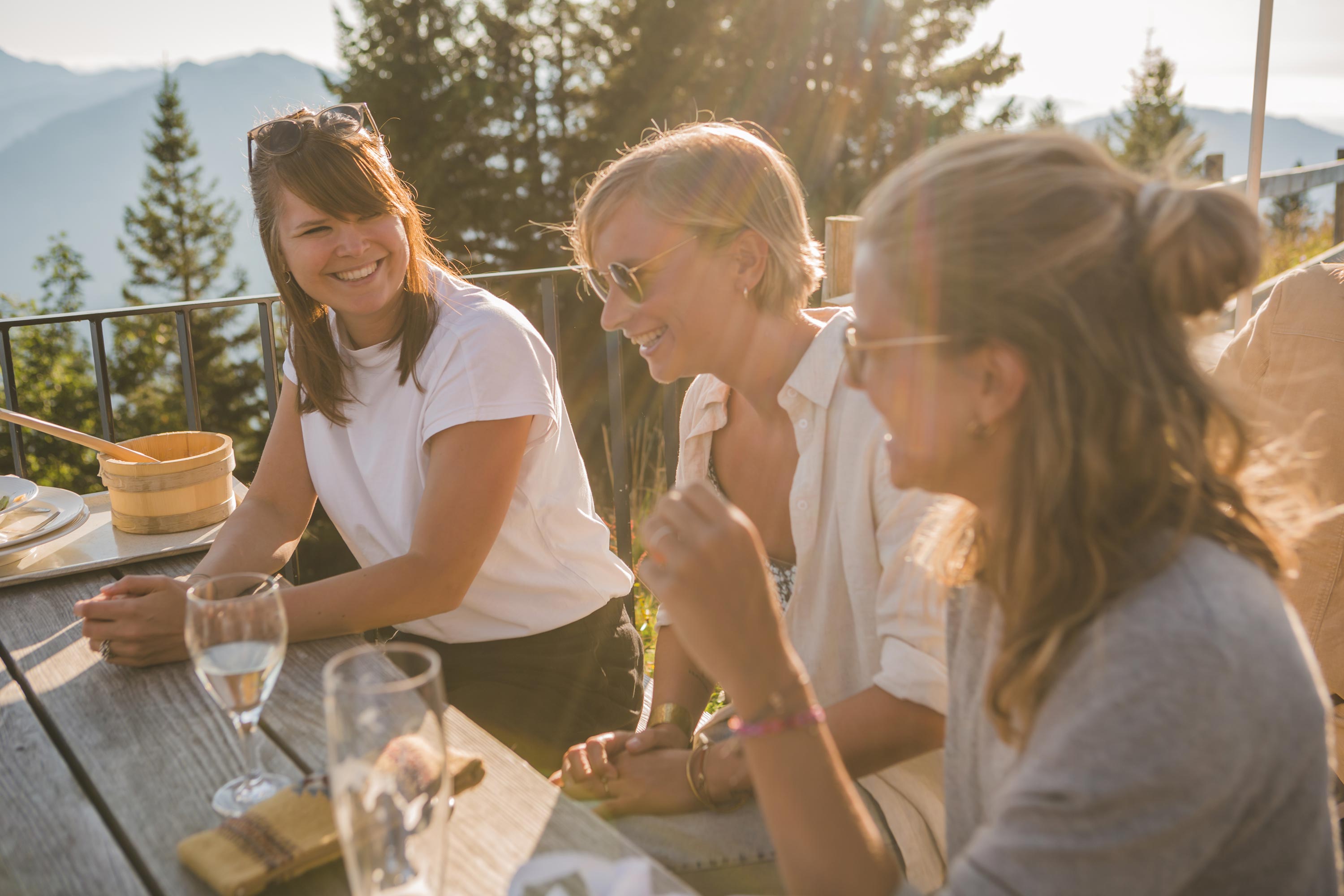 It's always hard to explain the Bregenzerwald to someone, who hasn't been there yet.

Maybe it's the place fairy tales describe when they talk about a country where everything is beautiful and good. It's the landscape with its rolling, green hills and the mighty mountains in the background. It's the small villages with vibrant traditions and proud locals. It's the amazing cheese. It's the architecture and style. And it's the »FAQ« – the forum that feels like a mixture between discussion panel, music festival and food happening. It's all about raising questions, gathering inspiring people in one place and getting them to interact with each other. Topics like globalization, climate change and gender equality are on everybody's agenda. The »FAQ« is an entire work of art. A work of art that we are trying to describe in four scenes.
SCENE 1
First day of school
We can't imagine a more suitable start into the four days of discussions, inspiring talks and culinary adventures awaiting us. Vorarlberg's
Bregenzerwald
presents itself from its most picturesque side: it's close to sunset in
Bezau
and we're jumping into the gondola that will take us to the top station
Baumgarten
.
faq bregenzerwald
A place for discussion, mind-blowing conversations, culinary pleasures and the most beautiful landscape.
bregenzerwald
Nestled between the mountains, the Bregenzerwald is home to 32.000 people spread out over 23 villages. What they all have in common: they are all pretty proud of their roots.
High above the trees, we are in the midst of excited people chatting, quite like a buzzing beehive.
A beehive full of positive energy.
Friendship
– the Viennese agency pulling all the strings behind this festival definitely know what
it's doing.
Right as we arrive, the whole scenery is flooded with golden light. Looking at one side, mountains in pink and red frame the surroundings. In the opposite direction, the
Bodensee
is a sparkling, watery gem.
We meet some friends we haven't seen in a while, chat over
local beer
and
Käsknöpfle (Vorarlberger Spätzle with cheese)
. It reminds us a bit of going back to school after the summer. But instead of subjects, we'll be dealing with the big questions of modern life. Today will be the day where all of them are going to be introduced. During the course of the following days, they will stimulate our minds with issues like
»Whom to trust?«, »What's moving you?«, »How does love work?«
and
»What will remain?«
.

SCENE 2
»Are you the pilot of your life?«

The next day, we find ourselves in a historic barn. The description says »baroque« – excitement! We are among the first people listening to former Austrian politician and coach Matthias Strolz, who founded the liberal party »NEOS«, reading from his new book. It has been raining the whole night and cooled down quite a bit, making the little walk from the car park to the barn not too pleasant. But once we're inside, it's warm and it smells like vegetarian goodness thanks to chef Wolfgang Mätzler. That's the entrée.



At FAQ Bregenzerwald many questions are raised, but even more answers are given.
But for the main course, Matthias Strolz serves us important questions that would linger long after listening to his talk: »How will your life go on?« – »What is right for me?« – »Am I in charge?« A short glance at the audience shows us that everyone is as captured by the author as we are. Everybody seems to match the questions raised with his or her own life. Many nod approvingly, some have an easy smile on their lips. As soon as we're out of the barn, we enter a quick-tempered discussion on what the things Matthias Strolz said would mean for our own lives. This talk won't end for some hours.
mohr polster
A workshop with a view. Craftsmanship is going strong in the area – people design, cooperate and are united in their unique taste.
SCENE 3
An untraditional morning pint
»Frühschoppen« (morning pints)
is a thing in Austria. Sundays often start with big tents, heaps of beer and
traditional Austrian brass music.
As it is the »FAQ«, of course they're creating their own rendition of the custom.
First of all the question of the (rainy) day is
»What will remain?«
. That's why organic farmer
Simon Vetter
is plotting something very special together with chef
Christoph Fink
. Their passion for food results in something we've never seen before:
Austrian Ramen
. Inspired by the question of the day, they only work with ancient types of crops and parts of the bull that aren't usually used.
This is served with beer –
duh
– and a male choir that makes us all smirk. The
Gesangskapelle Hermann
might have a traditional name but they couldn't be
more unorthodox.
Funky beats meet hilarious lyrics.
Organic Ramen with a twist – only available at FAQ Bregenzerwald.
wälderbähnle
A steam train functioning on the rhythm of almost forgotten times. A nostalgic endeavor, which is not only reserved for geeky train lovers.
hotel hirschen im
bregenzerwald
»Young since 1755« is their motto. A hotel with traditions and principles that's open for change. Find out more at our exclusive Echoes Magazine interview with hotelier Peter Fetz.
SCENE 4
Being nostalgic
It is the last day already – just one more night left in our beloved »Hotel Hirschen« (see our interview with
Peter Fetz
). We have all our snacks – meaning
Manner Schnitten & mediocre coffee
– and the most beautiful train ticket ready to step into a time machine called
Wälderbähnle
. Time to reflect on the massive input we've gotten over the course of the last four days. As various shades of green pass by the train windows, our thoughts are all over the place and
still need to be sorted out.
The rhythm of the old times helps us think about change, adaption, styles of life, listening, talking and designing our own happiness. The misty weather, the black and red steam train and the end of »FAQ«'s daily sessions make us quite nostalgic.
But in the most beautiful way.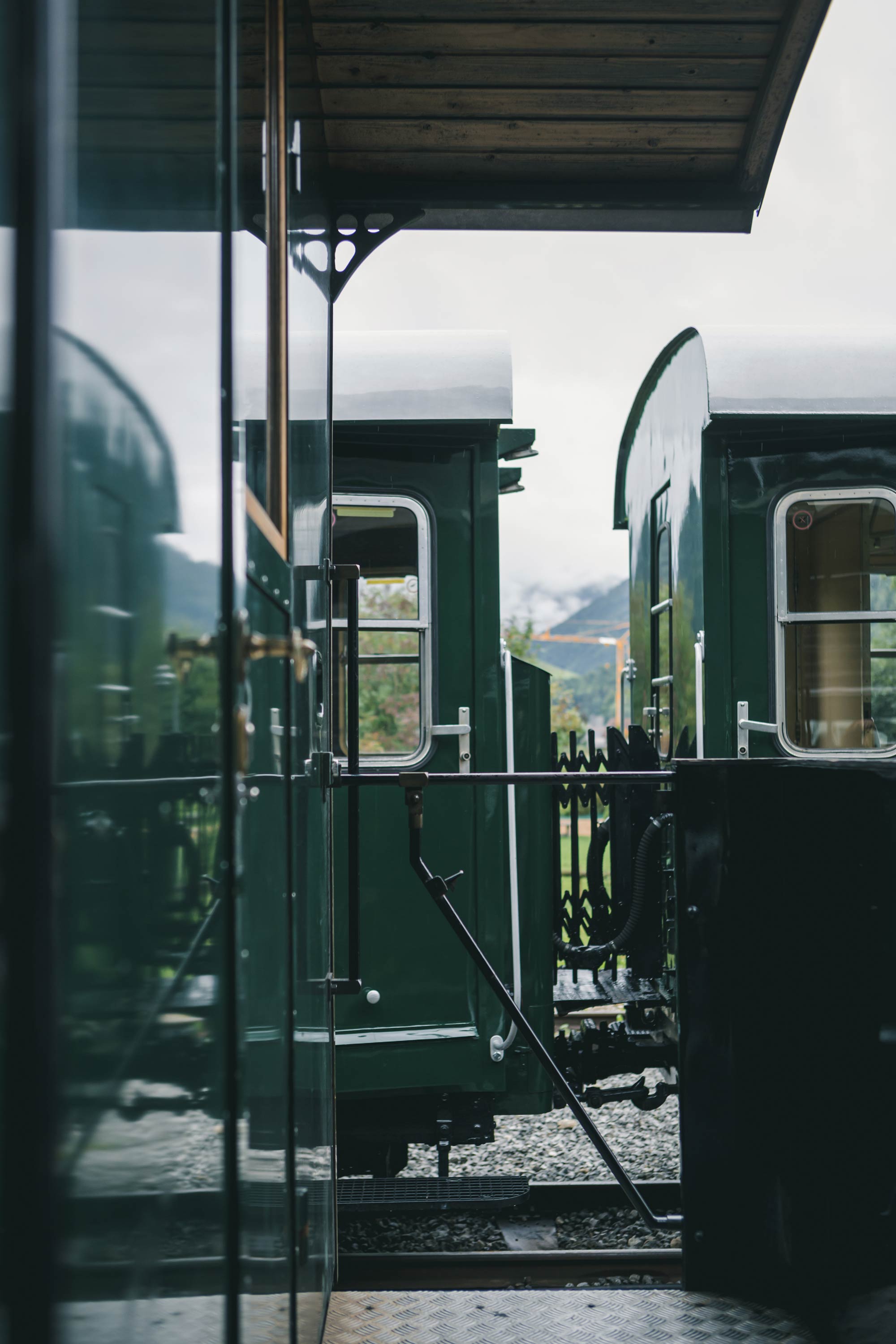 And over the course of these four days, summer somehow changed to fall.