Behind the Scenes: Work & Travel


The World
is my Office

Work is not always stupid, boring and tedious. Work can be awesome. And yes – there are people on this planet who love their job. Not because of all the money they make. But rather due to the opportunities and life-changing insights they get. For all of you who think that I am always out and about, or one crazy workaholic: this is for you.
There is a very thin line. A line between
work
and
travel
. Since I started out writing travel books and self-publishing them with my co-author Vera
(eat write live)
, the journey became the goal. I've worked on trains, cars, planes, buses, trams, the beach, in cafés, co-working spaces, hotel rooms (oh so many!), pubs, apartments, on friends' couches, in bars, beds, hammocks.
What feels natural to me, is often completely unthinkable for the people around me. They can't understand how I manage to tick off all my to-dos and enjoy a cross-cultural experience at the same time. I've learned that I function the best, when I have the feeling that everything around me in motion. My concentration on writing and getting shit done is at its peak when sitting on a train or placing myself in the midst of a busy coffee shop in, let's say, Ottawa or Zurich. Of course, I asked myself: why is that? Especially because I have a super nice office in my hometown, shared with the best and most inspiring people. Where my huge Apple screen, the Bialetti coffee machine and all my plants basically scream: »This is the perfect working environment, you silly person, why not stay here all the time and use it?« My answer is rather easy: subconsciously I'm not feeling excluded from life when on the move or in a coffee shop. In my office I do. At least a bit.

Ask yourself: Where is your happy place for work?
And then, Echoes Magazine came around the corner, which brought countless trips with my co-founder and design wizard Marie. That meant even more time on the road, and as we continuously manage and produce branding, content strategies & corporate books for our clients back home, we soon figured out: schedule is key. It is certainly not ideal, if we travel to one place and then work from 9 to 5 there. When we're getting ready to get on the road again, we take on fewer projects or tend to work more before or after the take-off. When close to the sea or in the south, we use the hot hours of midday to get some work done. You can perfectly work in the mornings with a »Cappuccino & Cornetto« while looking out at the Amalfi Coast. Trust us – we've been there, writing about Austrian ski resorts, answering e-mails, discussing offers and brainstorming huge upcoming projects. Particularly the brainstorming-and-new-ideas-part is done best when away from home. Your mind is just not that busy, more at ease and eager to get new ideas going (often we catch ourselves coming back home with the longest to-do lists). So we try to work just a few – usually around four – hours a day and spend the rest relaxing, taking small trips, hiking or chatting. It sounds perfect. OK, well – it is.


Ask yourself: Where do you get your best ideas?
But what makes this all possible? Let's take a few minutes and say a thank-you-prayer to: the internet! Without you, dear Internet, none of the above would work out (except for the ideas part…). However, it's not always smooth sailing. I cannot even begin to count the times when I tried to get a good Wi-Fi connection in Hamburg, Berlin, Los Angeles or Marrakech.
My worst case scenario took place in a small house in Montenegro, where I had to implement some magazine feedback. In the very moment when I wanted to send them to the editor, the Wi-Fi just died. I couldn't get any connection, called the landlord, who had to go to a shop and refill the credit. It took hours. Meanwhile, I threw my nerves overboard and lay in a dark room, waiting for my destiny to reveal itself: would I lose this client? Will he ever trust me again? Should I have stayed home? Why me? You surely know how this story goes. But in the era of Whatsapp, Facetime, cities that offer Wi-Fi everywhere (oh yes!) and so on, you'll always find your way completing your tasks and even staying connected with your clients at home.

Ask yourself: Has the internet ever let you down? How did you deal with it?
To be completely honest, my career path hasn't been straight at all. Over the years, I have somehow crafted my own mixture of journalist, travel book author, copywriter, photographer and brand strategist. But it wasn't smooth sailing at all. I started out studying English Literature & Linguistics and was simultaneously writing for (local) newspapers. After getting my degree, I jumped right into being a freelancer. Not because I wanted to, but because nobody wanted me (getting a proper job as a journalist in Austria is not that easy, especially when you want to get paid fairly).
Ask yourself: What kind of job would you create for yourself?
Well, after that I started working as a blogger (hell yes – internet!) and content creator, and I also got my first jobs as a copywriter. As my job profile is constantly developing, I'm now the proud mother of four dragons… uh … travel books and deliver custom solutions for clients who look for special print products. Also, I still engage in copywriting and strategy for brands. And yes, I consider that fun (at least most of the time)! So a big part of my portfolio is tied to travel. But even if I'm not »researching«, I usually take my big camera with me, because if I don't, regret often overwhelms me afterwards. But still – I can enjoy those trips. Because finding cool spots, taking pictures, eating good food and talking to interesting people is not only part of my job, but of my identity as well.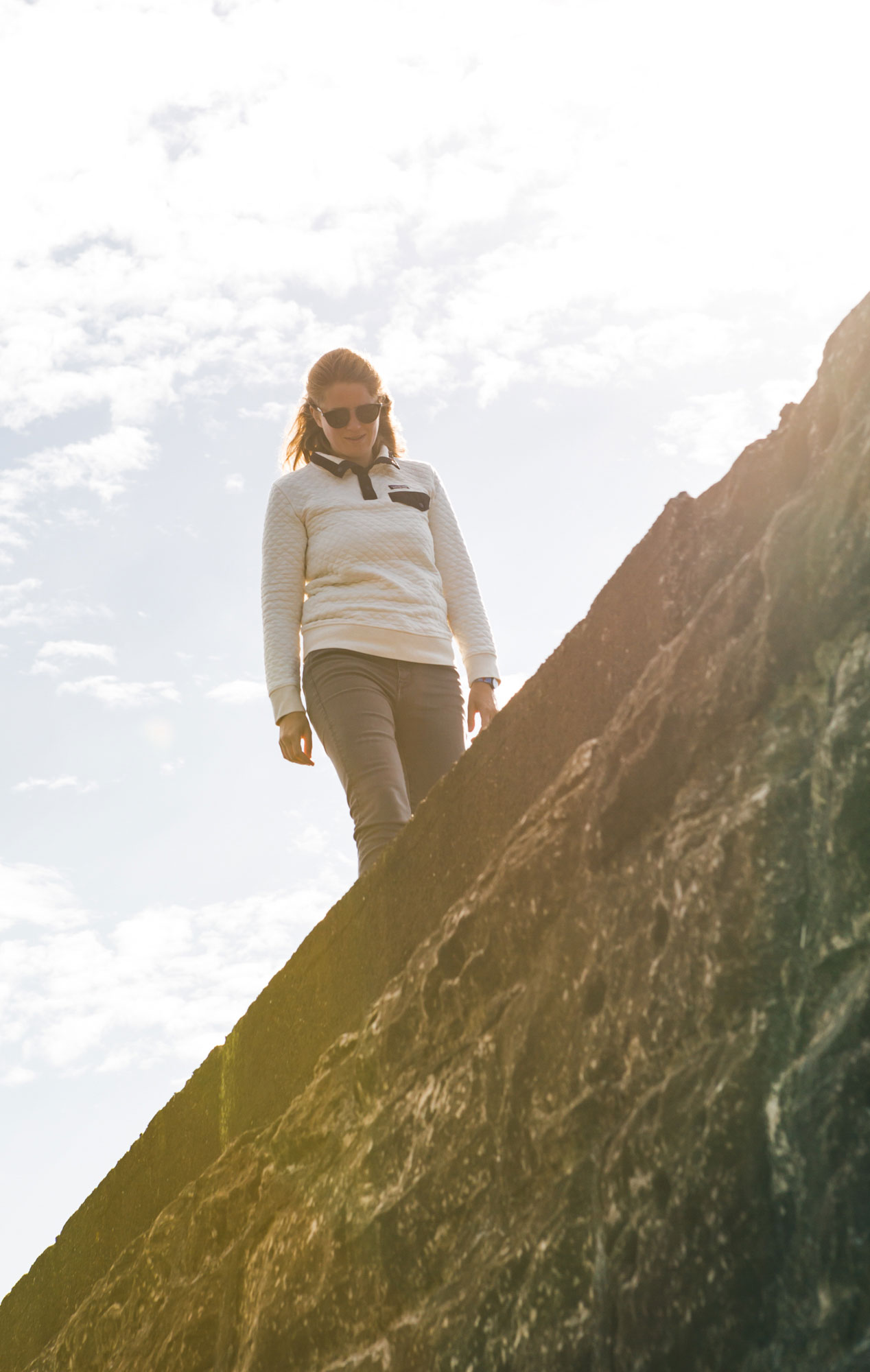 So – work and travel don't exclude each other. Not even work and holidays do. I think it is rather a matter of how happy you are with what you do the most part of your waking hours and how fast you can just switch between work and life.


Ask yourself: Did you like this article?