Travel Log: The Faroe Islands


Sheep, Ships & Shivering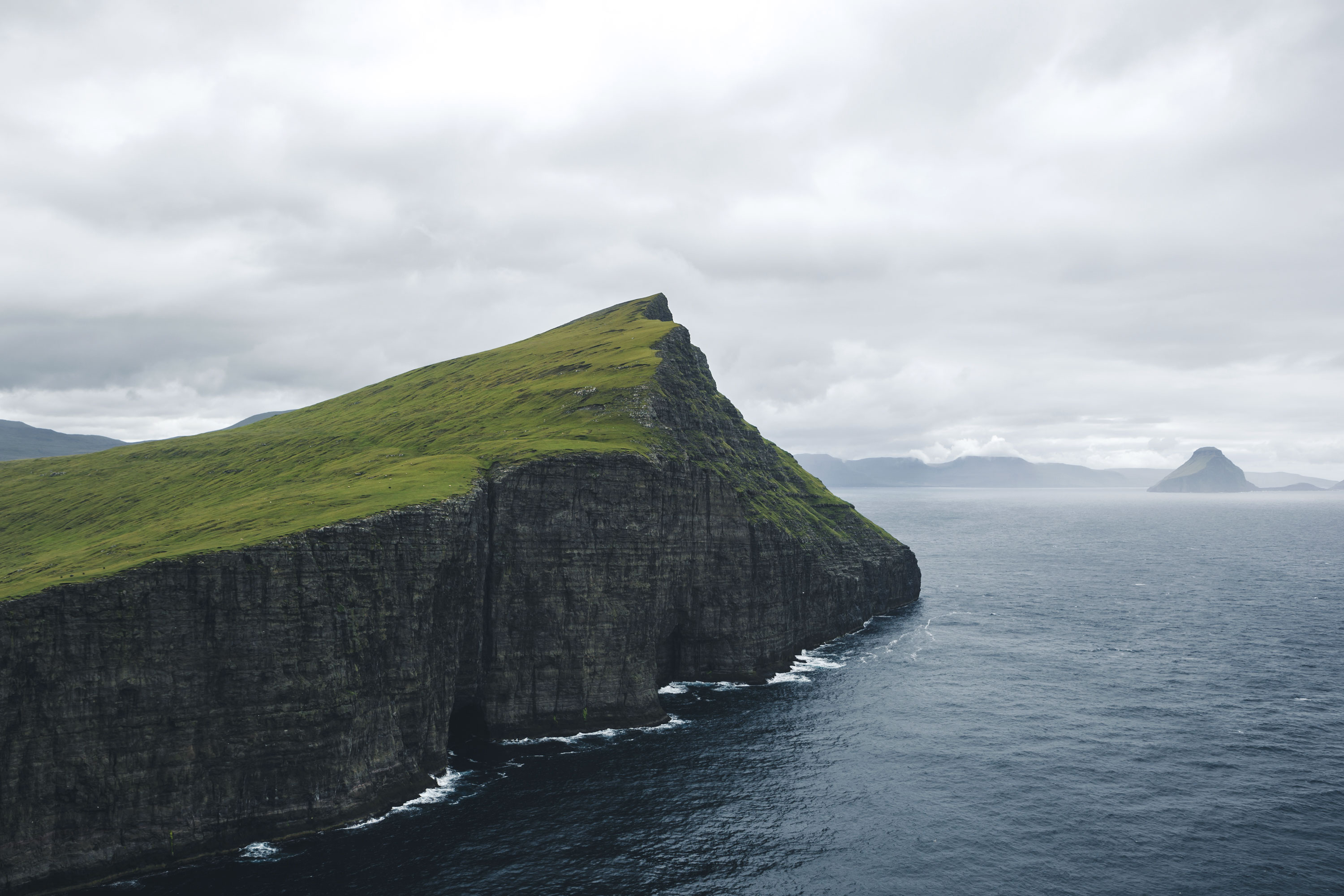 The Faroe Islands – the remote, austere outpost of Denmark presents itself cloudily and sincerely. However, it has rolled out its green, July carpet. 200 miles north of Scotland the God of Thunder rules and leaves the 50,000 people living under weather conditions constantly demanding knitted woolen sweaters.
The crowd in the bus taking us to Tórshavn consists of 50 percent tourists and 50 percent locals. All have the same destination, but while looking out of the huge windows, their thoughts couldn't be more different. Whereas the visitors peer in awe at the curiously shaped scenery the island has to offer, those who return, gaze at their familiar, well-beloved landscape. The gloomy weather and the meagre 11° C / 52° F only underline the charm of the Faroe Islands.

Soon you can decipher a pattern: mighty cliffs, green overgrown rocks, waterfalls tapering off into luscious streams, the dark, dark Northern sea, sheep, wooden houses with turf roofs or various colours ranging from white to bright red or yellow. And: the must-have soccer field in every little village.


The Sheep Island
It's already in the name – Faroes mean »Sheep Island« and the 70,000 living, wool-covered, professional mowers are a constant when exploring the 18 the islands that are gathered amidst the North Atlantic in a triangulum between Inverness (Scotland), Rejkjavik (Iceland) and Bergen (Norway).
In this forlorn place in the North Atlantic, the weather always has the last word. 300 days of rain per year leave no time for sunbathing or frolic barbecues.


But we didn't come for that anyway.
Before our Atlantic Airways plane even lands on Faroese soil, Ada, our seatmate & new friend is already introducing us to the little things we should know about the islanders. Born on Sandoy, she now lives in the diminutive capital Tórshavn with her three kids. »For us, children are everything. We are crazy about them,« she explains.

Apparently, we are quite lucky just because our plane reached the destination: »It often happens that it is far too foggy for planes to land here, they have to be redirected to Bergen or Reykjavik«, she says.

When arriving in the capital, Ada spontaneously invites us to meet her ex-boyfriend Janus, who has looked after their daughter while she was away. Before we even have time to realize that we have finally made it to this remote place, we are already sitting in the middle of Viking-akin Faroese people drinking tea and munching cookies, joking about the time when their soccer team won against »us« Austrians. (Apparently a big thing up there!) They don't get tired of recommending musical events, bars and special places to us before Ada personally takes us to our Airbnb, which is a sweet red and white painted house overlooking the biggest settlement of 20,000 inhabitants.

Vágar, Midvágur, Hvalba – Faroese names of places are easily confused with those of metal bands. We didn't even try to understand this language, which has a spelling with little resemblance to its pronunciation and a whole lot of new letters unknown to us.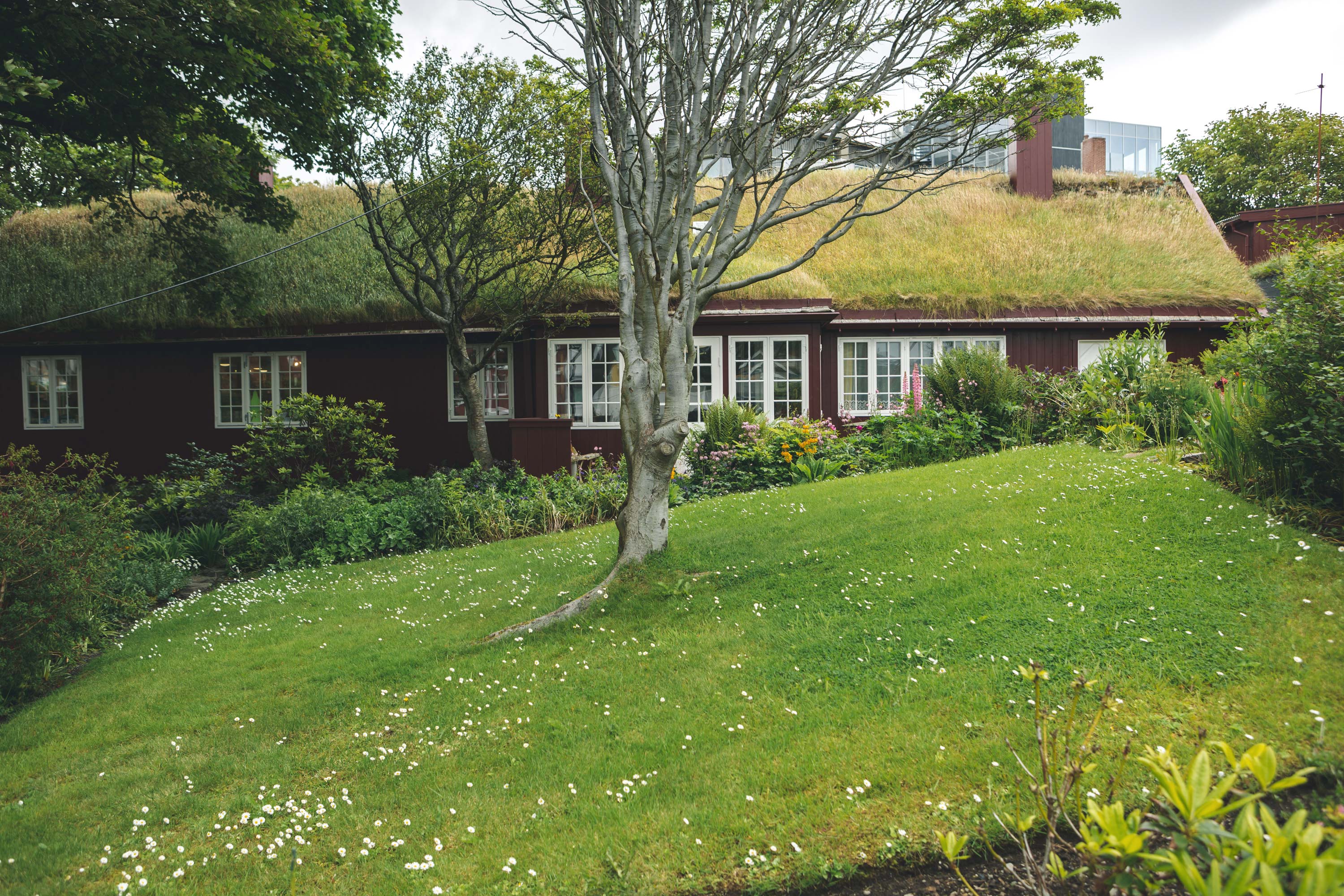 Arriving at the Faroe Islands is like stepping into a fairy tale
KAFE UMAMI
Right opposite the harbour, this small coffee shop offers little treats fit for the Western taste. While enjoying some brunch, you can observe local sailors in their oilskin overalls getting ready for the sea.
Fortunately the islanders are friendly and speak the English language very well, even though their tourism is still in its infancy. Sometimes, this turns out to be quite convenient – for example, when hiking five hours straight without meeting a single soul. But there are other days, when you are desperately seeking for a coffee shop to hide from a sudden rain shower, and there's none to be found anywhere (we did discover one in the end, and it was too good to be visited just once:
Brell Café
).
Supermarkets are open till late at night to get food & supplies, and public transport operates pretty well (and is even for free in the town of Tórshavn). The only two things we really missed were the darkness (
Midsommar
) and our beloved trees (
too
windswept).
All in all, the Faroe Islands are the Paris of landscapes to me.


Why, you ask? Paris – as opposed to other big European cities – has one coherent architectural appearance. It doesn't matter if you step out of the Metro at the 12th, 5th or 20th arrondissement – you always know that you are in Paris, as all the houses have a similar colour and height. The Faroe Islands are not that different – wherever you go, the overall picture stays the same. Some mountains may be higher, some cliffs steeper than others, but it's always one and the same magnificent view.
To get the most out of it, we decided on a hiking day trip to
Nólsoy
for our second day, in order to pay a visit to the little island and its red-capped lighthouse. So right after indulging in the whole brunch menu at
Kafe Umami
– nestling between the sailing boats of Tórshavn harbour – we took the ferry towards the small isle. The weather wasn't exactly friendly, but we kept on naively trusting the forecast that predicted a rather dry day.
But with every step outside the village, the surroundings became more inhospitable – the ground turned soaky and muddy. At times, we thought that the earth would devour our water-resistant shoes for lunch. But we went ahead, one
Cairn
at a time.
The various stone piles along the hiking routes are called "cairns". They lead the way and are usually found not too far from each other in order to be easily spotted from a distance. We grew quite fond of them.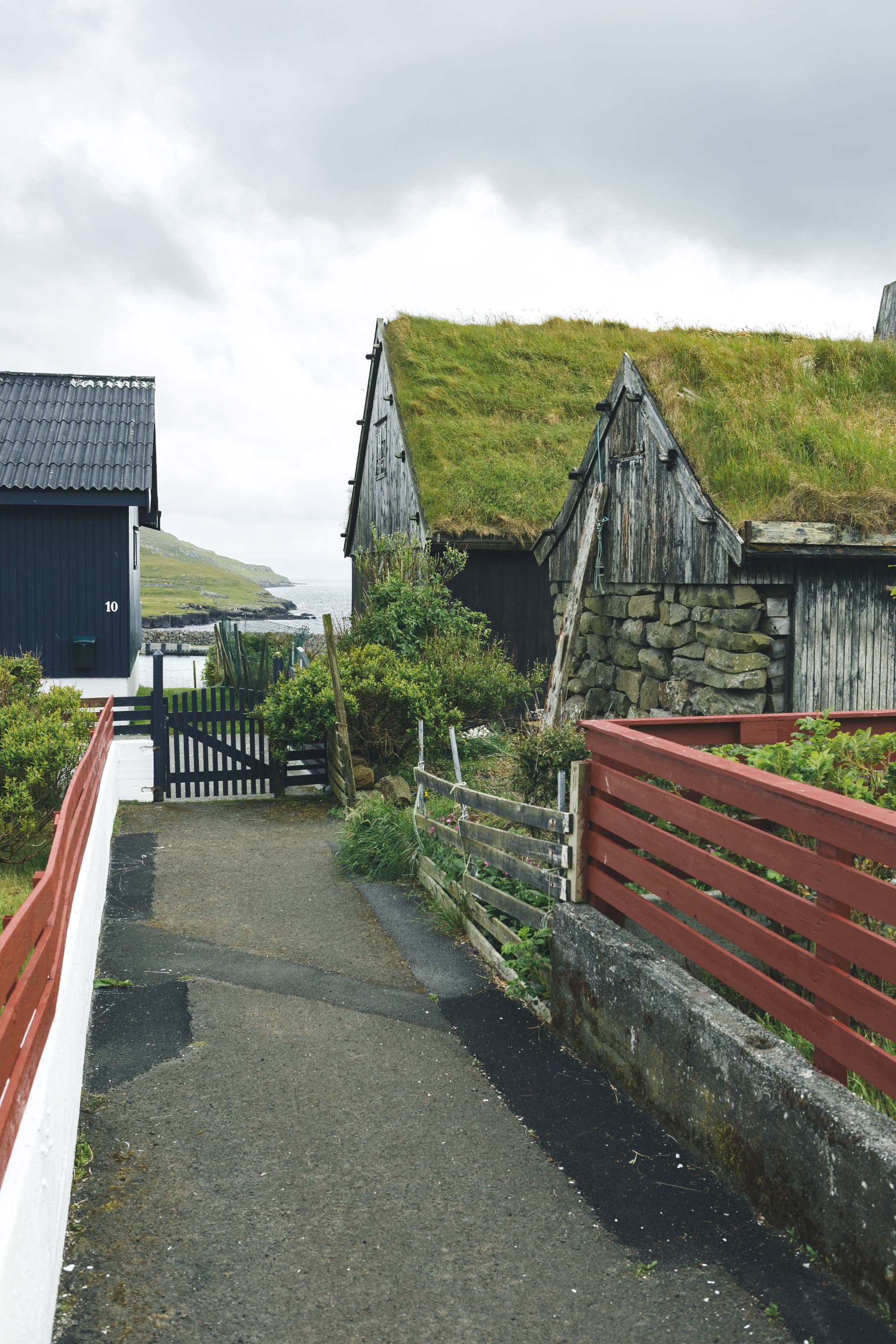 Climbing up the highest bump of
Nólsoy
, the wind became stronger and was joined by little raindrops that whipped against our faces like little needle pins. There was no space for either fear of heights nor not coming back, we just kept on moving forward, anticipating our reward: the
light(house)
at the end of the way.
And it paid off – unspoilt nature all around us, interrupted only by cotton grass and fuzzy sheep. Arriving at Borðan, the lighthouse – built in 1893 – greeted us in its most picturesque way, surrounded by grey skies and dancing grass. We couldn't believe that three families with ten children once lived in this forlorn place.
A TRIP TO NOLSOY
It's quite easy to get to the small island of Nolsoy – just take the ferry that leaves from Tórshavn. All ferries are included in the day pass. A sweet little town and countless beautiful hiking routes await.
This is the calm before the storm
This is the sea between the isles
And this ain't the time to chase the dawn
This is the time to count the miles
So hold your fire and clear your mind
You won't get left behind


»Howl« – Jake Houlsby
BUTTERCUP ROUTES
The Faroes' 700 miles of coastline enabled us to drive the nicest coastal rides ever, the crashing, dark-blue, frigid ocean always in sight. Make sure to take all Buttercup-routes you can. The tourism board used the national flower to mark the most picturesque ways to discover the islands.
It was road trip time, so we picked up our brand spanking new
Ford Focus
from
Unicar
to explore the various islands of the country. The Faroese seem to be trustful people: when we arrived at the car rental, our Ford was already waiting for us – unlocked and with the key inside,
ready to go
(24 hours later, we left it exactly in the same state).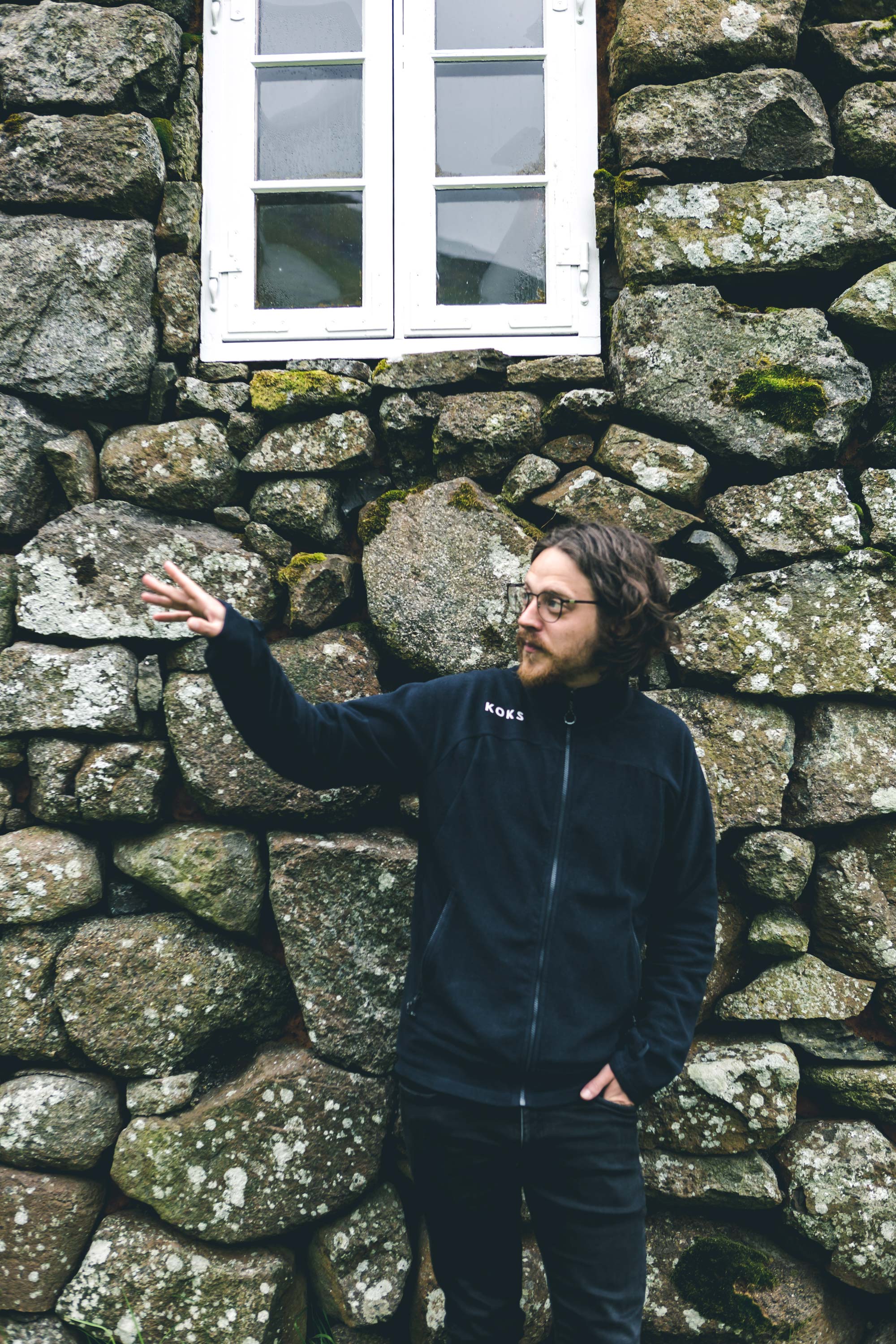 We began our drive by going down an undersea tunnel connecting
Vágar
and
Streymoy
. Our first destination was clear:
Kirkjubøur
. A little village with black wooden houses, red window frames and turf roofs.
Then we went up further north, where we met Micheline-starred chef
Poul Andrias Ziska
in his restaurant KOKS. (Get to know him in our
interview
).
But our wanderlust paired with a speedy car inspired us to go to the furthermost point that can be reached without having to take a ferry – Viðareiði.

A true end-of-the-world scenario unfolding in front of our eyes.
On our way back to the capital, we couldn't resist taking a detour to the most touristy spot in the whole archipelago called
Saksun
. Featuring green grass, a little white church, waterfalls and a beach that is so scenic, it is out of this world.
But there's also an angry farmer not d'accord with all the people stepping on his fields. Please try to stay on the official paths! We did too.
Day 4. Sitting at the airport, feeling rather odd that it was already time to go back and leave this land, that could as well be the home of fairies, medieval heroes or even dinosaurs. It is so different, so surprising, so challenging to our comfort zones. The plane was late, as was predicted by Ada before we even arrived here. Looking outside we could only see fog, some of the flights for today had already been cancelled. Would we catch our train from Edinburgh to Manchester and ultimately sleep in our Airbnb houseboat tonight?

Our heads were full of questions, our hearts full of memories. Just like yesterday's hike leading us to
Sørvágsvatn
, which is not far away at all, but felt like it all of a sudden. We hiked along the biggest lake of the islands (
Leitisvatn
) finally arriving at a place where breathtaking views of high cliffs, the lake and a waterfall came together.
Ultimately, I wrote into my little notebook that you can't really grasp what you see on the Faroes. And this was also the moment when the plane finally landed and all the people at the tiny airport (which consists of two gates) started to clap and cheer.
Like the human body, the Faroes are mostly water.
Rebecca Mead