Travel Log: Scotland & the Highlands


Stern & Wild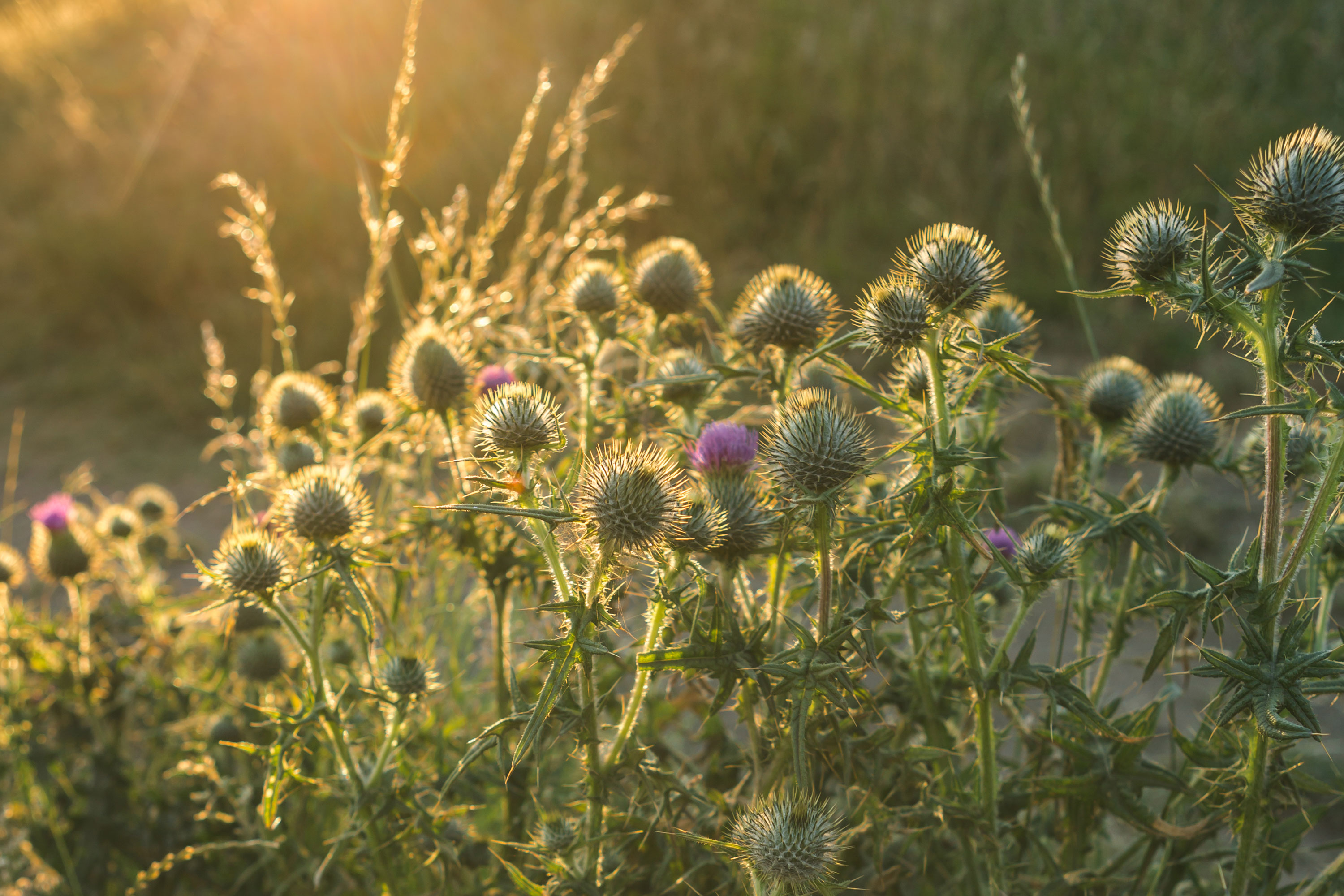 Cherished memories of rough coasts & untouched wilderness still fresh in our minds, we decided on exploring the vast Scotland we had heard so many mystical stories about. A 2-week-road trip up and down the Scottish Highlands, alongside crystal clear Lochs & dense heathers, on the edge of harsh cliffs & rocky beaches, through ancient cities & untamed nature would become the Caledonian adventure even grander than our wildest imagination.
Although Edinburgh would be the first place we'd step on Scottish grounds, we quickly got into our rental car to start our journey up north. The city had to wait – at least until our trip through the Highlands and beyond would come to a close two weeks later.

We drove across the bridge on the – at least for us Austrians – »wrong« side of the road, shaky hands clutching the wheel, full concentration on the cars passing by. The Scots seem to be patient people: no honking or angry faces screaming at you when you're carefully trying to find your way 'round the roundabout, and so we slowly but surely made our way towards the coast.

We stopped at
St. Andrews
for burgers and beers, stretching our legs a bit by discovering hidden corners of the ancient town and randomly entering a pretty garden, bathing in the warm light of the slowly setting sun.
Taking the scenic route, we encountered small fishermen's villages and lovely seaside towns like
Kirkcaldy
,
Crail
or
Anstruther
(where we would spend our first night with the most beautiful sea-view).
Time to leave civilization behind.
With our newly acquired
Pocket Mountains
hiking guides, we made our way to our highly anticipated first stop on our route through the Highlands – the mighty
Cairngorms National Park
. Known for its multifarious vegetation and diverse landscapes, Katharina and I were eager to take a first look at the park's magnificent highlands we've heard and read so much about.
Our first hiking trip took us over to
Ryvoan Pass
along various Lochs in countless hues of blue & green, through ancient pine woods and open moorland right up to the little house in between the heathers:
Ryvoan Bothy
.
One step after the next, a sense of soothing calmness sets in, putting yourself in a state of peacefulness you weren't able to experience in a long time back at home. Talking about life and everything beyond with your friend by your side, taking in the sceneries surrounding you – there is a reason why there's meditation to be found in walking.
We went on to discover the area around the
Glenlivet Estate
the next day with a hike over
Carn Daimh
to marvel even more at the endless Highlands surrounding us. Walking under the noon sun at a suspicious 28°C / 82°F, we would get a first glimpse at the surreal heatwave that would accompany us the rest of our trip —
and leave us with a slightly different impression of the Scottish weather than we had expected.
Exchanging the woods for a rather different flora, we couldn't help but pay a visit to the Inverness Botanic Gardens where we walked amongst (my beloved) cacti friends and gazed at the floral splendor in every possible color imaginable.

Inverness itself was but a short stop on our journey towards the West. We would be crossing the country through a different part of the Highlands, passing by picturesque Eilean Donan castle and legendary Loch Ness, with one very special goal ahead: dramatic cliffs & wild coasts – the Isle of Skye was waiting.
It felt weirdly magical to be crossing over the huge bridge to the Isle of Skye – kind of like entering a strange new place, still connected to the mainland, but a whole new world on its own as well.
It's not easy to describe, but the Isle of Skye possesses a mystical power no other place on this journey would be able to keep up with. We made our way to the city of Broadford to arrive at the sweetest Airbnb imaginable – having stayed in a rather plain hostel for the previous days, it felt as if we were entering paradise when we collapsed onto our huge, cozy bed and found our little fridge to be filled up with all kinds of delicacies from smoked salmon to fresh smoothies.


When being out and about all day, every day, a little peacefulness goes a long way. Finding a space like this always feels like hitting the jackpot – and it sure as hell made for an even better stay on an already so captivating isle.
Cattle & sheep – constant companions on a trip through the highlands.
Pursuing my newly awakened passion for planning hiking routes, we decided to start off by discovering the South-Western cliffs close to the town of Elgol, where we would be retracing Bonnie Prince Charlie's steps, who hid inside a cave before escaping the British army once more.




Even though Katharina is a cliff-hiking specialist from her many, many travels through Cornwall, the views we were in for blew both our minds. Luscious green hills softly melt into rock formations before radically dropping downwards into the crashing sea. The cliffs are wild and overgrown with moss and other little flowers, and we gasped when we dared to take another step forward to look down into the deep abyss. So beautiful and dangerous both at the same time.


FAIRY POOLS
Close to Carbost, this easy roundtrip takes you alongside the icy pools and waterfalls up towards the Cuillin Ridge, where you can continue on over Coire na Creiche battlefield and make your way back to the carpark on a much less traveled way.
Day 2 led us further north to the famous Fairy Pools – a magnificent area of cold, blue pools on the River Brittle, which you can follow up on a gravel path or simply jump in for a quick refreshment. A good idea not only the both of us had: we suddenly found ourselves amongst countless tourists (a weird sensation after spending so many days on nearly deserted hikes) and decided to quickly continue on towards the mountains without taking a dip altogether. The further up we went, the fewer people we encountered – we would call it the »laziness barometer«.
And then—
we went to Glendale.
Doesn't sound like much? We thought exactly the same.
Oh, how wrong we would be.
Waiting for nightfall, looking for something to eat in the middle of nowhere, we stumbled upon the »Red Roof Skye« – a croft-to-table restaurant serving seasonal set three course menus. From sorrel soup to venison ragout, we got to try all kinds of surprising & exciting tastes from the surrounding area. We couldn't believe our eyes. Cheers to the magic of exploring.
red roof skye
It's hard to put into words the amazing experience we had at this place: enjoying craft beers in the cozy garden, marveling at the minimalistic interior inside the house, indulging in incredible, never-tried-before tastes – the Red Roof restaurant is a must-see on your route.
A face that says more than a thousand words.
Time check: 11 pm. The sun slowly starts to set after a seemingly endless, burning hot day and colors the sky in a warm palette of red & orange. We are surrounded by cotton grass, thousands of them, swaying in the evening breeze. The hills are dipped in pure gold – a sight that immediately feels familiar from other journeys in the past, and at the same time we are stuck in a moment so singular we will probably never be able to forget it. By that point, we have already lost our hearts completely to the Isle of Skye.

Turning our backs on the isle was one of the most bittersweet goodbyes we ever had to say. But the journey must continue – and so on we went towards Fort William in order to do the only right thing: riding the Jacobite Steam Train, also known as the Hogwarts Express to the fellow Harry Potter nerd. We sat by the window, absorbing the landscapes gently passing by and our heart lept as we rolled over the Glenfinnan viaduct.

Quick stop in pretty Plockton, a little coastal village with a very specific climate, allowing palm trees to grow amongst the local greenery.
And just like that, it was time for our last hike on Scottish grounds.
We stayed with a lovely lady in the outer boroughs of Glasgow – a city we had only heard mixed stories about, but which turned out to be one of our favourite spots along the road. But spending so much time in nature took its (positive) toll on us, and so we quickly craved the peace & tranquility of the highlands again. Time to leave town once more.
It's important to understand that we have lived in
Austria
for most of our lives – being amongst dense forests & high mountains could not be any more normal. So when the Scottish people say
»mountain«
, they mean something a little different than the giants we are used to at home. Still – climbing up
Ben A'an
seemed like the proper way to bid farewell to the mighty highlands. The endless views made sure of that.
As we drove back into Edinburgh, we were excited to get to know this city we only catched a quick glimpse of two weeks prior. Dignified in its ancient architecture, but still bursting with young energy, the city effortlessly charmed the both of us in an instant.

We spent the next three days discovering its different quarters: marvelling at Victoria Street's colorful houses in Old Town, going for window-shopping & burgers in New Town, indulding in some scones with clotted cream after a stroll along the docks in Leith and – in order to stay true to our nature-hungry hearts – hiking up mighty Arthur's Seat at sunset.

Breakfast at
Urban Angel
, Coffee at
Fortitude
, Lunch at
Five Guys
, Cake at
Mimi's Bakehouse
, Dinner & Drinks at
The Jolly Botanist
, Ales at
Teuchters Landing
, Pretty Things at
Kestin Hare
As we stood on top of
Arthur's Seat
, breathlessly taking in the endless views of the grand city of Edinburgh below us, bathing in golden sunlight once more, our minds slowly drifted off. Trips like these are planned so many months in advance, routes mapped out & details checked, weeks and weeks full of anticipation & excitement – and then you blink and suddenly it is over.
Time had tricked us once again, and made us believe that the journey would never end.
Here we were
, all our stops and hikes and plans behind us, and our hearts ached for having to leave this country behind.
But then again you walk away so much richer than before, in experiences and memories and knowledge and overall love for the magic of travelling that simply never disappoints.
»O Caledonia! stern and wild«
opens Sir Walter Scott's poem, and so we join in his ode to a country so gloriously wild and rough in its beauty that will hold a place in our hearts forever.